Each year the Parker County Aggie Moms' Club

raises funds to provide scholarships to both high school seniors

 and current Aggies. 

We greatly appreciate your support of this effort.
Congratulations to Our 2018 Scholarship Recipients
High School Scholarship Recipient:
, TAMU Class of 2022 Majoring in 
Current Student Scholarship Recipients:
, Class of XXX, Majoring in XXX
Photo of Some of Our 2017 Scholarship Recipients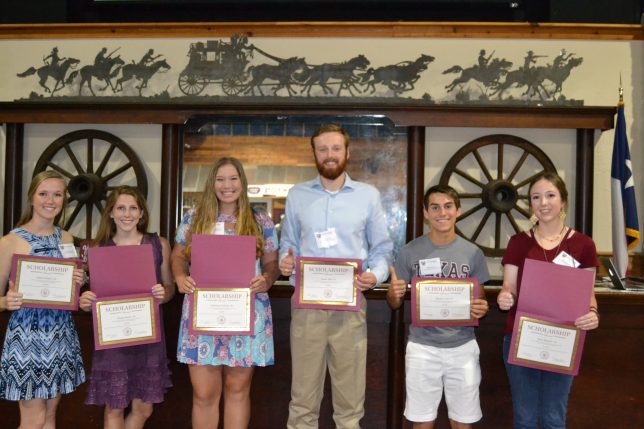 2018 Scholarship Applications — These will be updated by January 2019
High School Senior Scholarship —
One scholarship will be given to a high school senior for $1,000.
Scholarship is only for the College Station or Galveston campuses of Texas A&M University
NEW for 2018 –  applications will be submitted by e-mail
Applications and references must be emailed by: Saturday, March 10, 2018 at midnight CST
ELIGIBILITY –  Any eligible high school senior graduating during the 2017-2018 school year that meets the following criteria:

High school weighted GPA of 3.0 or above
Student must be accepted and enrolling for full course load (minimum of 12 hours) for the upcoming Fall semester at Texas A&M University in College Station or Galveston, Texas
The student or the student's parent/guardian must reside in Parker County
All information must be completed and applications must be signed. Incomplete applications will not be considered.
Download High School Senior Scholarship application (updated 2/8/2018): PCAMScholarship2018HSGraduateApplicationForm
HS Scholarship Judging Rubric:  2018 PCAM Scholarship Rubric -high school
Current Aggie Scholarships
Scholarship is for $1,000 per recipient for undergraduate studies.
A student may only receive the Parker County Aggie Moms' Club Scholarship one time only. (Either as a graduating high school senior or as a TAMU student)
Applications and references must be emailed by: Friday, March 23, 2018 at midnight CST
ELIGIBILITY — Any current Texas A&M student that meets the following criteria:

Current TAMU GPA of 2.5 or above
Student must be currently attending Texas A&M University in College Station or Galveston as a full-time student (12 or more hours) and planning to enroll in the Fall 2018 and Spring 2019 as an undergraduate
The students meet one of the following residence requirements. The student or the student's parent/guardian must reside in:

Parker County, Texas; or
Texas Zip Code: 76035, 76108, 76126, 76177, 76449, or 76485; or
Out of State Zip Code: 12302, 15085, 16124, 17050,  27526, 28027, 30019, 30135, 30319, 32259, 32317, 32504, 32533, 32765, 34786, 32963, 34232, 34285, 33028, 33067, 60525, 62049, 62225, 71801, 72801, 87111, 89052
Recently Added Zip Codes:  60564
Download the Returning Aggie Scholarship Application (updated 2/8/2018): 
PCAMScholarship2018ReturningAggiesApplicationForm
Current Student Judging Rubric:   2018 PCAM Scholarship Rubric -Current Aggie