Parker County Aggie Moms Club is a 501(c)(3) organization.  Our club provides annual scholarships to Texas Aggie Students.  If you have questions, please reach out to any of our officers.
Laura Geyer, President, pcaggiemompresident@gmail.com
Deralee Bowlin, President Elect, pcaggiehowdyparty@gmail.com
Robyn Freiman, 1st Vice President, Membership, pcaggiemom.member@gmail.com
____________, 2nd Vice President, Ways and Means (Boot Sales) aggiemomboots@gmail.com
Stefanie Bunting, 3rd Vice President, Student Services (Study Packs), pcaggiemom.studypacks@gmail.com
Amy Dube, 4th Vice President, Hospitality, pcaggiemom.hospitality@gmail.com

Jennifer D'Avino, 5th Vice President, Scholarships, pcaggiemomscholarship@gmail.com
Kathlene Camp, Secretary, pcaggiemom.secretary@gmail.com
Jackie Johnson, Treasurer, pcaggiemomtreasurer@gmail.com
Jenn Shepherd, Public Relations, pcaggiemompublicrelations@gmail.com
April Porter, Historian, pcaggiemom.historian@gmail.com
Jessica Staples, Parliamentarian, pcaggiemom.parliamentarian@gmail.com
About Us…
The Parker County Texas A&M University Mothers' Club is one of more than one hundred Aggie Moms Clubs across the country.  We are organized exclusively for charitable and educational purposes. "We strive by individual and united effort to contribute in every way to the welfare of the students at Texas A&M University and to cooperate with the University in maintaining a high standard of moral conduct and intellectual attainment…." and we make new friends and have fun in the process!
Aggie Moms are proud, proud of Texas A&M University – proud of the daughters and sons they send to Texas A&M and proud of making a contribution: to the education of their Aggies, to the future of Texas A&M University and to the future of the Great State of Texas.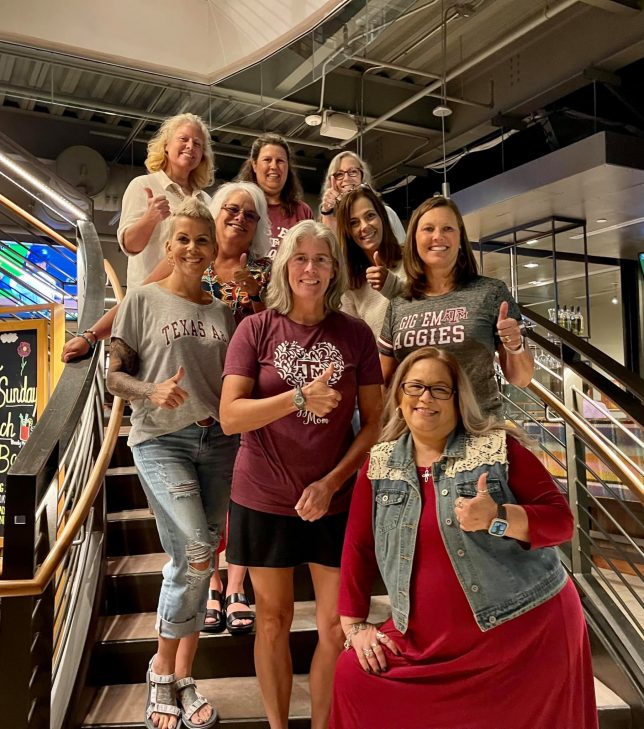 More information:
Parker County Aggie Moms Club, P.O. Box 2421, Weatherford TX 76086; Phone: 817-755-0224